Le principe de ce rendez-vous est simple, il faut répondre à trois questions chaque lundi:
1. Qu'ai-je lu la semaine passée ?
2. Que suis-je en train de lire en ce moment?
3. Que vais-je lire ensuite ?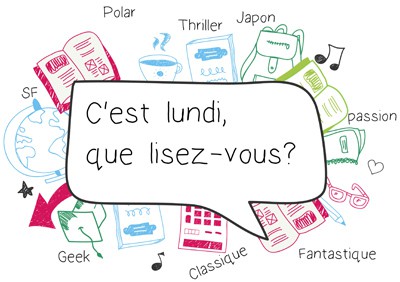 J'ai connu ce rendez-vous sur le site de Galléane et je me suis dis pourquoi ne pas participer, même si mon débit de lecture n'est pas aussi volumineux que le sien ;-).
Bonjour à toutes et tous.
Je ne vous parle plus de mon irrégularité de publication dans cette rubrique, pourtant je ne vous oublie pas. Cette semaine j'ai terminé La femme en vert d'Arnaldur Indridason, une lecture de cet auteur que j'aurai aimé plus captivante. J'ai ensuite enchaîné sur ma lecture en cours, Agent Double de Daniel O'Malley reçu lors du Masse Critique de Babelio.
Bonne semaine de lecture.

Ma lecture en cours :
Agent double de Daniel O'Malley
Grâce au dernier Masse Critique de Babelio j'ai eu la chance de recevoir de la part des Editions Super 8 la suite du remarquable et remarqué The rook, au service surnaturel de sa majesté. J'avoue ne pas avoir hésité à postuler pour livre tellement j'avais apprécié le premier opus. Un univers proche de celui des x-men saupoudré de celui James Bond. Vous voyez le genre, non? Alors lisez Daniel O'Malley, vous comprendrez 😉
Quand, après des années de combats acharnés , deux organisations secrètes et rivales sont contraintes d'allier leurs forces, une seule personne semble en mesure de les aider à conclure cette paix nécessaire : Myfanwi Thomas, la très fantasque héroïne de The Rook. D'un côté, la Checquy, organisation secrète chargée de combattre les forces surnaturelles qui menacent la Couronne britannique.De l'autre, les Greffeurs, une société de peu recommandables alchimistes belges adeptes de manipulations génétiques en tous genres. Sans compter les mystérieux Antagonistes, qui tentent par tous les moyens de faire échouer les négociations.
Ma dernière lecture  :
La femme en vert de Arnaldur Indridason [Chronique à venir]
Un auteur que j'avais découvert avec Betty , un bon polar avec une intrigue très intéressante, mais je n'ai pas accroché sur le héros, Erlendur, mais une belle lecture tout de même.
Dans un jardin sur les hauteurs de Reykjavik, un bébé mâchouille un objet étrange… Un os humain ! Enterré sur cette colline depuis un demi-siècle, le squelette mystérieux livre peu d'indices au commissaire Erlendur. L'enquête remonte jusqu'à la famille qui vivait là pendant la Seconde Guerre mondiale, mettant au jour les traces effacées par la neige, les cris étouffés sous la glace d'une Islande sombre et fantomatique…
Mes dernières chroniques :
Papillon de nuit de R.J Ellory
Mon premier roman de cet auteur, une intrigue prenante dans une Amérique divisée et en mutation dans les Sixties.
Nous avions à peine vingt ans et nous rêvions juste de liberté.» Ce rêve, la bande d'Hugo va l'exaucer en fuyant la petite ville de Providence pour traverser le pays à moto. Ensemble, ils vont former un clan où l'indépendance et l'amitié règnent en maîtres. Ensemble ils vont, pour le meilleur et pour le pire, découvrir que la liberté se paie cher. Nous rêvions juste de liberté réussit le tour de force d'être à la fois un roman initiatique, une fable sur l'amitié en même temps que le récit d'une aventure.
La fractale des raviolis de Pierre Raufast
Un auteur dont je suis fan, un style plein d'humour et de sarcasmes. Un petit bijou à découvrir.
Il était une fois une épouse bien décidée à empoisonner son mari volage avec des raviolis. Mais, alors que s'approche l'instant fatal, un souvenir interrompt le cours de l'action. Une nouvelle intrigue commence aussitôt et il en sera ainsi tout au long de ces récits gigognes. Tout ébaubi de voir tant de pays, on découvre les aventures extraordinaires d'un jeune garçon solitaire qui, parce qu'il voyait les infrarouges, fut recruté par le gouvernement ; les inventions stratégiques d'un gardien de moutons capable de gagner la guerre d'Irak ; les canailleries d'un détrousseur pendant l'épidémie de peste à Marseille en 1720 ou encore la méthode mise au point par un adolescent sociopathe pour exterminer le fléau des rats-taupes. Véritable pochette surprise, le premier roman de Pierre Raufast ajoute à la géométrie rigoureusement scientifique, la collision jubilatoire du probable et de l'improbable..
Ma prochaine lecture :
Sauf partenariat – non non ce n'est pas un appel du pied 😉 – je devrais enchaîner sur l'une de mes dernières acquisitions  à moins que je ne revienne à mon écrivaine suédoise préférée, c'est à dire Camilla Lackberg .
Mes dernières acquisitions :
Je vous gâte cette semaine avec l'ajout de ce petit point sur mes acquisitions. Cette semaine je suis allé à un petit marché du livre dans le village voisin, et je suis revenu avec 6 romans :
Silo de Hugh Howey
Arrêtez-moi de Lisa Gardner
Des enfants trop parfaits de Peter James
Cyanure de Camilla Lackberg
Code 93 d'Olivier Norek
Alex de Pierre Lemaitre
Je suis également passé dans ma petite Librairie Lulu – qui d'ailleurs fête ses 2 ans – où j'ai acheté dernièrement :
En attendant Bojangles d'Olivier Bourdeaut
Désolé je suis attendue d'Agnès Martin-Lugand
Someone d'Alice McDermott
Comme vous le lisez, je me suis fait quelques petits plaisirs 😉
Bonne semaine à tous