Je partage aujourd'hui l'interview d'un auteur anglophone, R.J Ellory. Tout a commencé lorsque je l'ai croisé dans les rues de Lyon durant les Quais du polar. Il était en bonne compagnie, je n'ai pas osé le déranger. Mais je lui ai envoyé plus tard un message via Twitter et c'est ainsi que nous avons commencé à échanger. Il a très gentiment accepté de répondre à ma demande d'interview et je partage cela avec vous. La traduction n'est peut être pas exacte et je m'en excuse d'avance auprès de l'auteur et de vous lecteurs.
Je l'ai découvert avec la lecture de Papillon de nuit que j'ai beaucoup apprécié et qui bien entendu m'a donné envie de lire d'autres de ses romans. C'est une personne passionnée et très accessible, il est de ces auteurs qui vivent leur métier à travers leurs lecteurs.
J'espère que vous apprécierez ces échanges.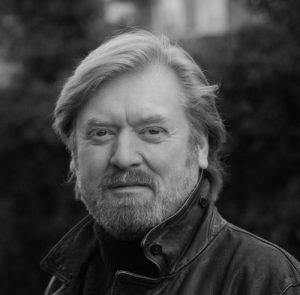 Né en Grande-Bretagne en 1965, il commence à écrire en 1987, 22 romans en six ans, la plupart refusés par les éditeurs en Angleterre. Pendant 9 ans il n'écrit plus, jusqu'à son roman Candlemoth, en 2001, publié en 4 langues. Depuis, il est traduit dans 19 langues, a été nominé à deux reprises pour le prix the Steel Dagger for Best Thriller, et obtenu the Barry prix du meilleur polar anglais en 2008. Après des livres comme Seul le silence, Vendetta, Les Anonymes, Les Anges de New York, il publie Les Assassins chez Sonatine Éditions.
Sources Quais du Polar
Le site internet de l'auteur : www.rjellory.com/
Le  site du groupe de l'auteur : www.whiskeypoets.net/
L'un des morceaux que j'apprécie particulièrement

Parlons de vous :
Pouvez-vous vous présenter en quelques mots ?
Auteur, guitariste, auteur-compositeur, photographe, voyageur, francophile, mari, père, amoureux des chats.
Comment êtes-vous venu à écrire des romans ?
J'adore lire. C'était la simplicité. J'adore lire. J'ai toujours senti qu'il serait formidable d'écrire quelque chose capable de déplacer émotionnellement quelqu'un, de créer ce genre d'effet, d'avoir quelqu'un pour lire quelque chose que vous aviez écrit et être ému par lui.
C'était la chose: sentir que vous aviez quelque chose à dire. Je me souviens d'avoir eu une conversation avec quelqu'un sur un livre qu'il lisait. Ce n'était pas quelqu'un que je connaissais; Juste une connaissance. Il a parlé de ce livre avec tant de passion et d'enthousiasme, et c'était comme si une lumière allait dans ma tête. J'ai commencé à écrire ce jour-là, le 4 novembre 1987, et j'ai écrit, écrit et écrit. J'ai écrit vingt-deux romans en six ans et j'ai accumulé plus de cinq cents lettres de rejet, mais je continuais. Le premier roman que j'ai publié était en fait le vingt-troisième que j'ai écrit. Je voulais juste tellement le faire, et j'ai vraiment senti que rien ne pouvait m'empêcher.
Comment se déroule l'écriture d'un roman (idée, repérages, écriture, promotion…) ?
Juste de la vie. Des journaux et des magazines, des conversations, des débats, des discussions. J'entends les choses que les gens disent et elles me déclenchent des pensées. Je pense que les idées pour les romans viennent d'être associées aux autres, d'écouter, de poser des questions.
J'ai un esprit inquisiteur, et chaque fois que cela n'a pas de sens, j'aime m'impliquer et savoir pourquoi cela n'a pas de sens. Enfant, je voulais être journaliste, et cet amour pour la non-fiction, pour l'écriture et la lecture de documents qui proviennent réellement de la vie réelle, est resté avec moi.
Donc, cela commence par le germe d'une idée, et cette idée grandit et se développe, puis je m'assieds et je commence à écrire. Je n'écris pas un aperçu ou un synopsis. J'ai simplement une idée approximative du genre d'histoire que j'aimerais écrire. J'ai une idée définie de la période et de l'emplacement car ces éléments sont essentiels au ton du roman. Et la dernière chose, et la chose dont j'ai l'idée la plus claire, c'est la façon dont je veux que le lecteur se sente. Je change d'avis alors que je travaille. Je prends de nouvelles décisions sur les personnages, sur la fin, sur toutes sortes de choses. Je continue d'essayer d'écrire le meilleur roman que je puisse. Je pense que le pire genre de roman que vous pourriez écrire est celui que vous pensez que les autres apprécieront, et le meilleur roman que vous pourriez écrire est celui que vous croyez que vous apprécierez.
Avec moi, la chose la plus importante à propos de tout roman est l'émotion qu'il évoque. La raison de l'écriture sur les sujets que je fais, c'est simplement que de tels sujets me donnent la plus grande opportunité d'écrire sur les vrais gens et sur la façon dont ils traitent les situations réelles. Il n'y a rien dans la vie plus intéressant que les gens, et l'un des aspects les plus intéressants des gens est leur capacité à surmonter les difficultés et à survivre. Je pense que j'écris des «drames humains», et dans ces drames, je sens que j'ai une toile suffisante pour peindre toute la gamme des émotions humaines, et c'est ce qui attire mon attention.
En ce qui concerne l'écriture elle-même, je me suis fixé quotidiennement mon temps d'écriture et je fais tout mon possible pour y parvenir. Je pense que certains auteurs adorent le processus d'écriture lui-même, et certains sont soulagés lorsqu'ils ont réussi à faire du travail. J'en suis le premier, le plus certainement. J'adore l'action de l'écriture au point de m'y perdre.
Avez-vous un objet qui ne vous quitte (presque) jamais ou une manie liée à votre activité d'écrivain?
Non, pas vraiment. Je suis très organisé et discipliné. J'ai une vie très, très occupée, et je ne m'arrête pas vraiment. Je fais toujours quelque chose, que ce soit l'écriture d'un livre, l'écriture de chansons, des répétitions, des enregistrements et des concerts avec le groupe, ma participation à des projets de photographie, etc. Quand je m'assois pour travailler, je dois travailler car il n'y aura plus d'autre moment pour le faire! Je pense que ma manie est mon besoin obsessionnel de toujours faire quelque chose de créatif et digne d'intérêt.
Pour vous quel est le rôle d'un écrivain aujourd'hui ?
En tant qu'observateur, que commentateur social, comme une inspiration, qui rappelle pourquoi l'alphabétisation est si importante. Je pense que la littérature et l'alphabétisation ont perdu leur importance, et la société a diminué en conséquence. L'alphabétisation est la communication, et la communication est tout.
Chaque échec dans la vie, chaque échec dans les relations, les sociétés, les cultures se résume à une panne de communication. Les guerres commencent parce que les gens ne peuvent pas communiquer. Apparemment, Einstein a déclaré: « Je crains le jour où la technologie dépassera notre interaction humaine. Le monde aura une génération d'idiots ».
La communication est l'interaction, et à moins d'inverser le déclin de l'alphabétisation et de la communication, nous n'aurons plus de culture. Les écrivains sont une partie essentielle de l'esthétique d'une culture, et lorsque vous prenez l'esthétique d'une culture, vous avez le fascisme et la tyrannie.
Vous êtes présent sur de nombreuses manifestations autour du livre. Que retenez-vous de ces moments?
Les gens. Écrire un livre est une activité très solitaire et individuelle. Vous publiez souvent un livre et n'entendez rien à ce sujet. Vous participez à un festival ou allez à une librairie et vous vous rendez compte que ce que vous avez créé a été apprécié et utile aux personnes. C'est pourquoi c'est si important.  Il conserve toute la raison de l'écriture vivante dans votre cœur et votre esprit, et cela lui vaut la peine.
Quelle rencontre vous a le plus marqué?
Un jeune homme, peut-être vingt ans, venu me voir à une fête. Il avait écrit depuis son enfance, et il avait abandonné, très frustré. Il a cru qu'il n'était pas assez bon, et qu'il ne pouvait pas réussir en tant qu'écrivain. Je lui ai parlé pendant un bon moment, puis il est parti. Il est revenu environ une heure plus tard et il m'a remis une note. Il a simplement dit: « Vous m'avez fait vouloir écrire à nouveau ».
Quels sont vos projets ?
Je viens de lancer un nouveau livre au Royaume-Uni. C'est la première partie d'une trilogie sur le crime et la célébrité à Hollywood. Il raconte l'histoire des immigrants irlandais et corse qui se rendent à Hollywood dans les années 30 et vivent trois générations et cinq décennies en Amérique. Il s'appelle Kings of America.
Je travaille également pour terminer le troisième album avec mon groupe, The Whiskey Poets. Je joue en direct, enregistre, répète. Je collabore à l'adaptation de Seul le Silence avec un écrivain / réalisateur français. Nous créons une version française de cette histoire pour la télévision. J'ai également vendu l'option Un Coeur Sombre, et le script est presque terminé. Ceci est écrit par un autre scénariste à Los Angeles.
Je retrouve également une passion de la photographie de trente-cinq ans, principalement pour mon propre divertissement, mais j'aimerais beaucoup publier un livre avec des photos et des anecdotes de mes voyages et expériences à travers le monde. Je suis également sur le point de commencer un nouveau livre pour le Royaume-Uni qui sera publié en 2018.
Quels conseils donneriez-vous à une personne qui veut se lancer dans l'écriture ?
Je crois que le pire type de livre que vous pouvez écrire est le livre que vous croyez que les autres apprécieront. Je crois que le meilleur type de livre que vous pouvez écrire est celui que vous aimeriez lire. Ecrivez le livre qui vous intéresse. Votre propre enthousiasme pour le sujet passera. Cet enthousiasme sera alors contagieux.
Parlons blogueurs :
Lisez-vous des blogs de lecteurs/chroniqueurs ?
Oui bien sûr. Ils sont souvent affichés sur mes médias sociaux, et je les soutiens toujours autant que possible.
Quel est le rôle de ces blogs dans l'univers littéraire ?
Absolument vital. Ils semblent certainement être plus fréquents en France que partout ailleurs, et il existe un énorme sentiment d'affiliation et de communauté. Ils servent à promouvoir les livres, à promouvoir la lecture, et ils servent à plusieurs fins. Ils tiennent les lecteurs existants informés de ce qui est lu, de ce que les gens aiment, et ils attirent et encouragent les personnes qui ne lisent pas à commencer à lire. Je pense qu'ils sont merveilleux, et en plus nous avons le meilleur!
Quelle relation avez-vous avec les blogueurs ?
Toujours disponible, toujours favorable. Je fais un don de livres pour des concours. Je m'engage avec eux de toutes les façons qu'ils me demandent. Je fais tout mon possible pour les aider à continuer.
Quels conseils donneriez-vous à un blogueur ?
Être réel. Soyez accessible, disponible, et participez avec d'autres blogueurs, lecteurs, écrivains autant que possible. Faites vos présentations bien à vous et n'ayez pas peur d'exprimer votre opinion.
Parlons livres :
Quel est le livre qui a changé votre vie… ou presque ?
In Cold Blood de Truman Capote. Le mélange parfait de faits et de fiction. Un chef-d'œuvre. Je l'ai lu trois ou quatre fois, et chaque fois qu'il s'agit d'un livre différent, et chaque fois que cela me inspire à travailler plus fort et à devenir meilleur.
Quel livre relisez-vous régulièrement ?
In Cold Blood comme ci-dessus. Aussi, The Things They Carried par Tim O'Brien. The Shipping News d'Annie Proulx.
Quels livres trouve-t-on dans votre bibliothèque ?
Ma bibliothèque personnelle? J'ai des milliers de livres! Beaucoup de non-fiction, car j'ai une fascination pour l'histoire, en particulier celle de la Seconde Guerre mondiale. J'ai également beaucoup de livres par des écrivains qui ont beaucoup de styles, des personnes qui ont utilisé la langue de manière particulière. Je suis tout aussi intéressé par le style et la langue que je suis dans l'histoire elle-même, donc j'ai McCullers et McCarthy, Capote, Steinbeck, Mailer, Roth, Auster, Proulx et beaucoup d'autres qui sont de véritables artistes avec le mot écrit.
Un livre que vous avez aimé alors que vous aviez des a priori à le lire ?
Je ne pense pas que ce ne soit jamais arrivé, Loïc. Je ne juge pas vraiment de livres sur les avis des autres ! Je les ai lus et si je ne les aime pas(si je ne les aime pas bien) j'arrête de lire!
Trois livres que vous conseillez de lire sans hésitation ?
In Cold Blood, The Things They Carried, The Executive's Song (Norman Mailer)
Quel livre est sur votre table de chevet en ce moment ?
La montée et la chute du Troisième Reich par William L. Shirer
—–
Le mot de la fin est pour toi 🙂 
Ma mère est morte à l'âge de sept ans. Ma grand-mère est devenue mon tuteur légal. C'était une femme très sage. Elle a dit: «Et si? Est la question avec laquelle commencer votre vie, de ne pas la finir. Je crois que nous sommes là pour faire ressentir notre présence. Je crois que si nous voulons être heureux, nous devrions consacrer autant de temps que nous pouvons à essayer de rendre les autres heureux. La vie est une aventure. Comme Emerson a dit: « N'allez pas où le chemin peut mener, allez plutôt là où il n'y a pas de chemin et tracez un sentier. »