Le principe de ce rendez-vous est simple, il faut répondre à trois questions chaque lundi:
1. Qu'ai-je lu la semaine passée ?
2. Que suis-je en train de lire en ce moment?
3. Que vais-je lire ensuite ?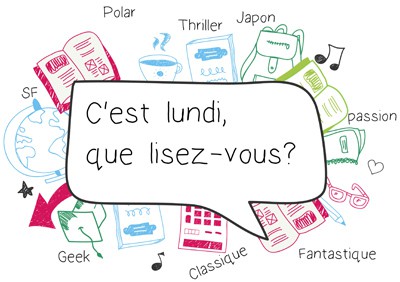 J'ai connu ce rendez-vous sur le site de Galléane et je me suis dis pourquoi ne pas participer, même si mon débit de lecture n'est pas aussi volumineux que le sien ;-).
Bonjour à toutes et tous.
Pas beaucoup de nouveautés cette semaine, je suis toujours dans la lecture d' Agent Double de Daniel O'Malley reçu lors du Masse Critique de Babelio. Je retrouve l'ambiance que j'avais aimé dans The Rook, mais c'est quand même un pavé de 816 pages 😉
Bonne semaine de lecture.

Ma lecture – toujours –  en cours :
Agent double de Daniel O'Malley
Grâce au dernier Masse Critique de Babelio j'ai eu la chance de recevoir de la part des Editions Super 8 la suite du remarquable et remarqué The rook, au service surnaturel de sa majesté. J'avoue ne pas avoir hésité à postuler pour livre tellement j'avais apprécié le premier opus. Un univers proche de celui des x-men saupoudré de celui James Bond. Vous voyez le genre, non? Alors lisez Daniel O'Malley, vous comprendrez 😉
Quand, après des années de combats acharnés , deux organisations secrètes et rivales sont contraintes d'allier leurs forces, une seule personne semble en mesure de les aider à conclure cette paix nécessaire : Myfanwi Thomas, la très fantasque héroïne de The Rook. D'un côté, la Checquy, organisation secrète chargée de combattre les forces surnaturelles qui menacent la Couronne britannique.De l'autre, les Greffeurs, une société de peu recommandables alchimistes belges adeptes de manipulations génétiques en tous genres. Sans compter les mystérieux Antagonistes, qui tentent par tous les moyens de faire échouer les négociations.
Ma dernière chronique :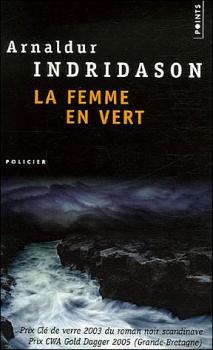 La femme en vert d'Arnaldur Indridason
Un auteur que j'avais découvert avec Betty , un bon polar avec une intrigue très intéressante, mais je n'ai pas accroché sur le héros, Erlendur, mais une belle lecture tout de même.
Dans un jardin sur les hauteurs de Reykjavik, un bébé mâchouille un objet étrange… Un os humain ! Enterré sur cette colline depuis un demi-siècle, le squelette mystérieux livre peu d'indices au commissaire Erlendur. L'enquête remonte jusqu'à la famille qui vivait là pendant la Seconde Guerre mondiale, mettant au jour les traces effacées par la neige, les cris étouffés sous la glace d'une Islande sombre et fantomatique…
Ma prochaine lecture :
Je ne sais toujours pas ce que je vais lire ensuite, Wait and see…and read
Mes dernières acquisitions :
Pas de nouvelles acquisitions cette semaine, mais des sorties poche en vue 😉
Bonne semaine à tous