Le principe de ce rendez-vous est simple, il faut répondre à trois questions chaque lundi:
1. Qu'ai-je lu la semaine passée ?
2. Que suis-je en train de lire en ce moment?
3. Que vais-je lire ensuite ?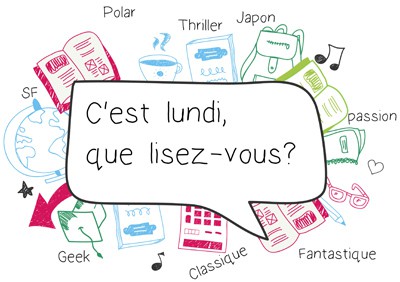 J'ai connu ce rendez-vous sur le site de Galléane et je me suis dis pourquoi ne pas participer, même si mon débit de lecture n'est pas aussi volumineux que le sien ;-).
Bonjour à toutes et tous.
Comme vous pouvez le constater le site a subi un petit rafraîchissement, des couleurs plus fraîches – c'est bien le moment – une nouvelle typo pour le logo. Pour le reste pas de changement, pour le moment 😉
Côté lecture, j'ai presque terminé Agent double, et je me régale, je fais traîner tellement je veux le faire durer. Il est aussi captivant que The Rook, et si j'ai trouvé quelques longueurs, ce roman saura vous régaler.
Bonne semaine de lecture.

Ma lecture – toujours –  en cours :
Agent double de Daniel O'Malley
Plus l'histoire avance et plus je suis accro. Des intrigues captivantes, des faits surnaturels effrayants, des personnages attachants, que du bon.
Quand, après des années de combats acharnés , deux organisations secrètes et rivales sont contraintes d'allier leurs forces, une seule personne semble en mesure de les aider à conclure cette paix nécessaire : Myfanwi Thomas, la très fantasque héroïne de The Rook. D'un côté, la Checquy, organisation secrète chargée de combattre les forces surnaturelles qui menacent la Couronne britannique.De l'autre, les Greffeurs, une société de peu recommandables alchimistes belges adeptes de manipulations génétiques en tous genres. Sans compter les mystérieux Antagonistes, qui tentent par tous les moyens de faire échouer les négociations.
Ma dernière chronique :
Je n'ai pas terminé ma chronique sur Nous rêvions de liberté d'Henri Loevenbruck, ce sera pour cette semaine.
Ma prochaine lecture :
Quel le choix va être compliqué ;-), sachant que je vais partir 1 semaine en formation à Montpellier, va falloir prévoir le stock ! 😉
Ma dernière acquisition :
Je l'attendais depuis longtemps en format poche – collection oblige – et le voici le dernier tome de la saga Au coeur du Yamato :
Yamabuki  d'Aki Shimazaki
Bonne semaine à tous